It's no secret that my favorite film is
Back to the Future
. Some of my earliest memories involve a toddler-age Adrienne running around yelling, "What the hell is a gigawatt?" But now that I'm an adult-age Adrienne, I've realized that the film is not only a cinematic masterpiece, but one that teaches you important life lessons.
6. Don't Drive Recklessly

.
Whether you're chasing down a guy on a makeshift skateboard, or texting while driving, driving recklessly has some serious consequences. Take your eyes of the road for one minute and you just might end up with a car full of manure.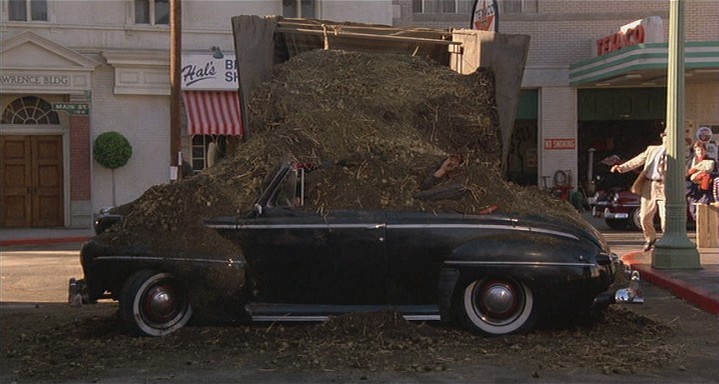 Property of Universal Studios
5. Parents Lie.
Marty McFly grew up hearing his mom gripe about girls chasing boys, calling boys, parking with boys, etc. Cut to teenage Lorraine who stalks Marty to Doc Brown's house, parks with guys, smokes, and steals liquor from her own mother. So much for that nun-like facade.
Property of Universal Studios
4. Dreams Come True If You Work Hard Enough.
"Mayor Goldie Wilson, I like the sound of that." Thanks to Marty's insight, Goldie Wilson goes from sweeping floors, to night school, to Mayor of Hill Valley. Even more impressive when you take into account that he had to battle racism while striving towards his dream.
Property of Universal Studios
3. Being a Peeping Tom Is Dangerous.
George McFly wasn't
bird watching
in that tree. Nope, he was watching a woman strip down. And he became so distracted, he fell out of the tree and into the street where Mr. Bates hits him with a car…nearly. In steps Marty to simultaneously save the day and botch the future.
Property of Universal Studios
2. Don't Make Deals With Terrorists.
You'll get shot at, chased, and possible fired at with a bazooka.
Property of Universal Studios
1. Always Write The Correct Name In Your Underwear.
It could be your only form of identification. Think twice before buying those Joe Boxers or Calvin Kleins.
Property of Calvin Klein